Creating a card or task
There are two ways to create a card. The first is a quick task which consists of just the title and basic text description. This is ideal for a high-level task where you do not have specific details and screenshots yet.
The other way is to use the full editor and this is ideal if you would like to add screenshots or write a more detailed description.
Creating a quick task
The quick task option can be turned on or off via the flash icon (1) in the filter bar.

By default, the option is turned on and when it is you will see this option in every sub-lane: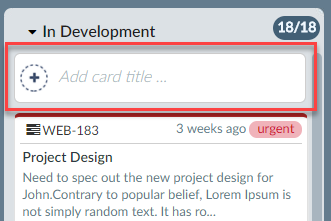 After creating a quick task, you can set the description by clicking on the placeholder text "click here to add a description" and begin typing inline.
Please note: once this description is set you can no longer change it inline on the card. To make further edits click the edit icon and edit the description in the editor.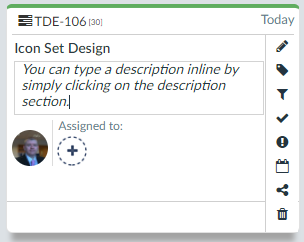 Add a card – Editor View
To add a card with the full editor view and additional options hover over the sub-lane until the + icon appears. Click that and the full editor view will appear.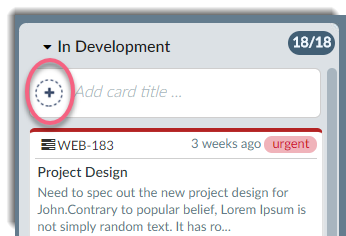 In the editor view fill out the following details:
Title (Once you press enter it will automatically move to the description field)
Set assignee (optional)
Add a tag (type the tag name and press enter)
Set attributes such as sprint, priority, status, due date, estimated hours etc (optional)
Add description, you can copy and paste images directly into the editor
Add any additional comments (optional)
Add any sub-tasks (optional)
Add any file or image attachments by clicking on the + icon and navigating to the path of the file or image.
Once you have filled in the relevant data click create task to create the card/task.
If you want to cancel and not create a tile at this time select delete card.