Send Task to external calendar
From TaskBlast, you can send any Task to an external calendar (for example, Outlook calendar, Google calendar and Apple calendar), so you can follow tasks on your phone, set reminders, or even share calendar events with your team.
Please note that you may need to have a Calendar App installed on your computer to accept and create calendar events from Tasks.
To create an external calendar event from a Task, please follow these steps:
On any Task, when you click on the "Set reminders and time estimates" icon on a Task:

You will see a button next the Start, Due or Alert dates (enabled only when date is set):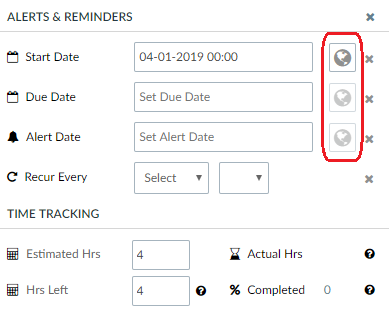 By clicking on the button of the date you want to export, the system will generate a calendar file. The external calendar event will be generated on your local machine so you may have to "Allow popups" for TaskBlast site on your browser first, in order to let the system, save the file with the event.  The calendar file may look like the following:

The generated calendar event will be set for the selected Task date, one-hour duration event, and having part of the content of the Task's description (images not included).
You can send the generated calendar event file by email to another colleague, save it, or double-click it to open up a calendar event in your pre-installed Calendar App.
IMPORTANT: Please note that calendar events generated from TaskBlast tasks, are not in synch with the external calendar.  This means that if you make a change on the Task in TaskBlast, it will not update the external calendar, and vice-versa.
Import .ics events in Outlook
In Outlook, select File > Open & Export > Import/Export.
In Import and Export Wizard box, select Import an iCalendar (.ics) or vCalendar file (.vcs),and then Next.
Select the calendar file from your PC and select OK.
Select Open as New. The items are automatically imported into your calendar.
Import .ics events in Google Calendar
Open Google Calendar settings on your web browser.
Select "Import and Export" from the left navigation menu:
Select the .ics file exported from TaskBlast, and choose which calendar to add it to. Press the "Import" button to save it to your Google Calendar: