Managing Tasks
To create new Tasks, you can just type it's title on the field on top of every Sublane and pressing the Enter key, or you may click on the plus sign on it's left:

Once you have the Task created, you can drag it between Sublanes to reflect its current state.
On the right side of each Task, there are several quick widgets you may use to control the Task and it's behaviour: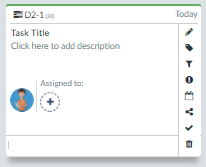 You can also change the Task title and add it's description directly from the Task itself. You may also assign the Task to members of your team very quickly from the Task.
To edit or view more details about the Task, you can click on the pencil icon to enter the Task Editor.