Schedule View
The Schedule view has the same consistent Kanban format with the main difference, the lanes and sub-lanes are based on date ranges.
We found that typically it is very difficult to tie the date you'll work on an issue to a specific date. This is because it is difficult to accurately estimate an issue until you dig into it and also other issues often get pushed up in priority.
Considering that, we decided to take a different approach and it was simply to allow you to arrange tasks by logical date ranges. Just drop your tasks into sub-lanes such as today, tomorrow, this week, next week and so on.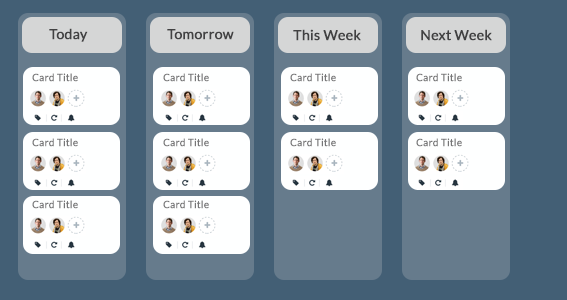 Tasks then automatically move through the different buckets as time progresses, so if you had 10 issues in the tomorrow lane, at midnight they would automatically move to the today lane.
Initially all your tasks without a due date will be in the unscheduled lane. You then move those from unscheduled to the relevant lane. Any issues with the status on hold, blocker or awaiting feedback will be automatically moved to the on hold/need info lane.
Issues with a due date of more than next week will move to future scheduled lane and finally if you want to plan a future item but do not have a specific date you can drop it into the no due date set lane.
Other than that, the functionality of the Schedule view is the same as the Kanban view so I invite you to explore some of the other key Kanban tutorials if you have not already to ensure you get the best out of using the Schedule view.
Schedule View – My Tasks
My Tasks view is identical to the Schedule view in every way; however the difference is that My tasks view shows ONLY tasks assigned to you. It is a great place to plan your day or weeks ahead.
It is also ideal for personal tasks that are not specific to a project.