Time Tracking
Manage your time tracking conveniently and quickly. The current time tracker is always visible in the header and also allows you to quickly switch to track time on another task.
Agents can see a recap of their own time in the time tracking sidebar and mangers and stakeholders can view a detailed report of time, costs and budgets for all projects broken down by user or task. Filter by one or more projects, sprints, tag, billable and date. Choose to show or hide hours, cost and budget information from clients.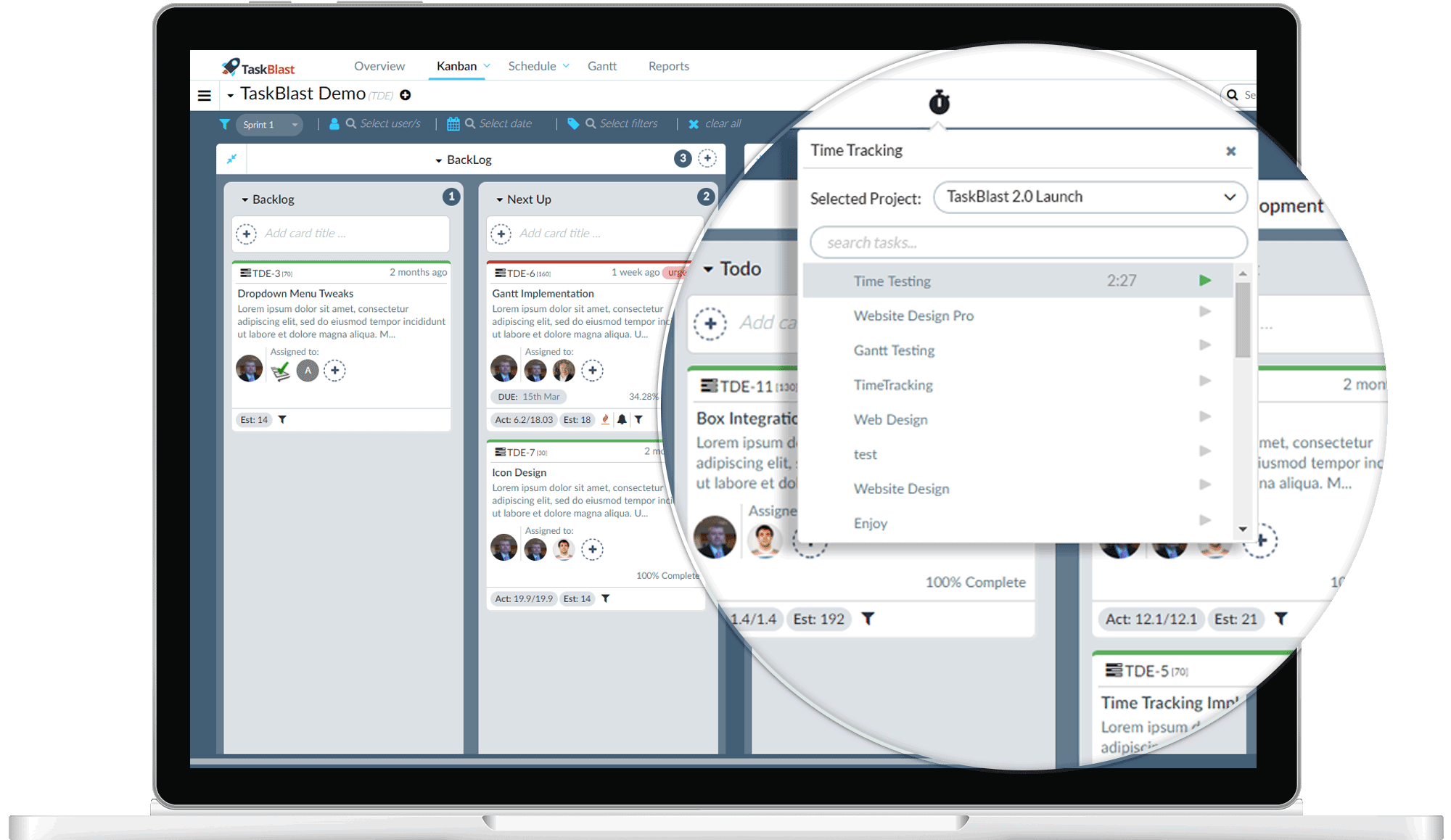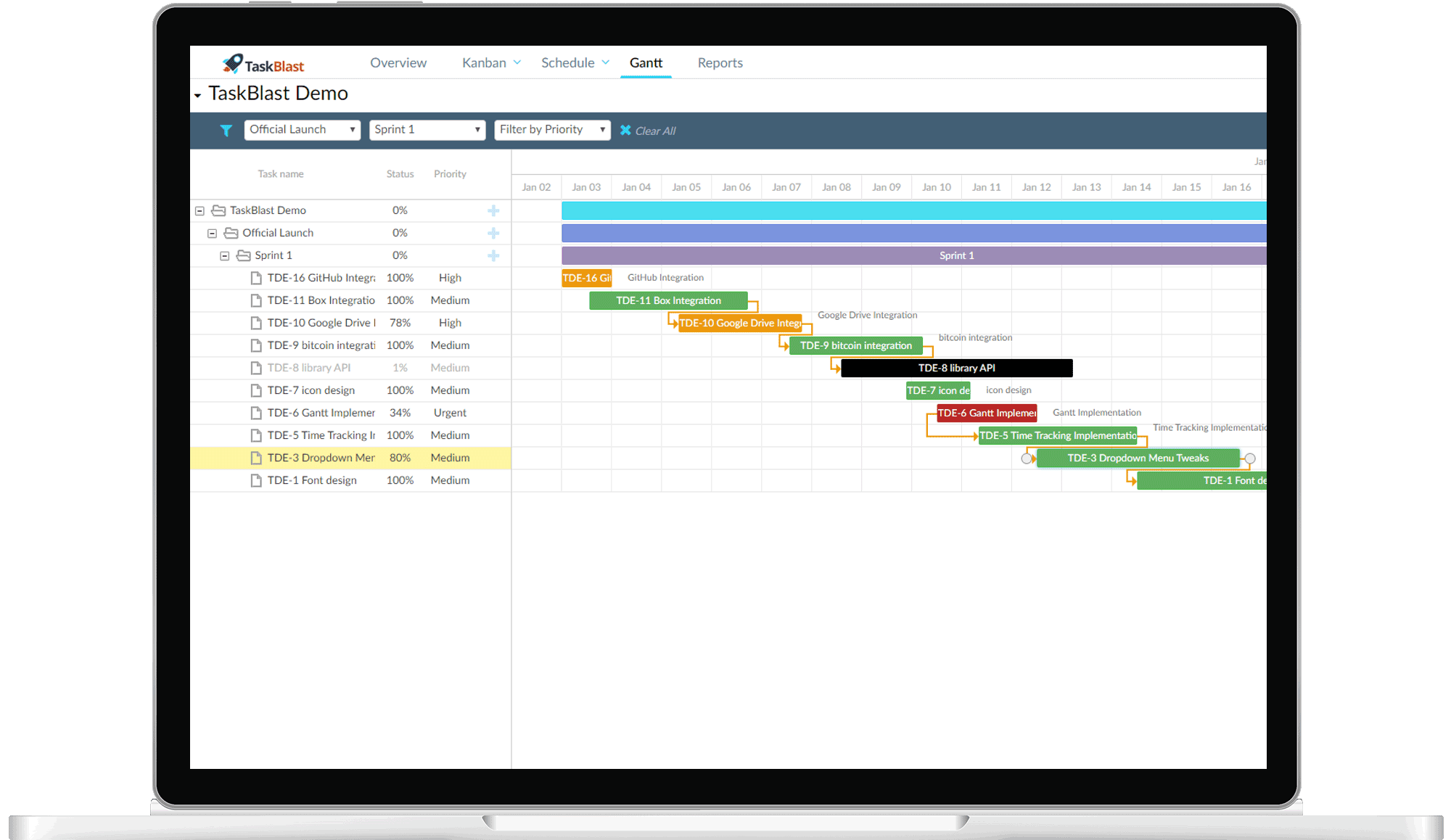 Plan your projects with Gantt charts
Use the Gantt view to visually plan your projects. The seamless integration means any updates in the Kanban view are synced to the Gantt and vice versa. Less duplication and no integration or API headaches and no additional costs for third party Gantt tools.
Agile Focus
If your team uses an agile methodology then TaskBlast has the tools to help you implement agile successfully. Backlog, milestones, scrum/sprints/scrumban, work in progress limits, velocity, burndown and more.
We are also actively working on two new features to help manage your daily stand-ups and also a sprint review feature. We don't impose anything on you. If you want to use a hybrid version of agile or don't want to use agile at all then TaskBlast can work equally as well.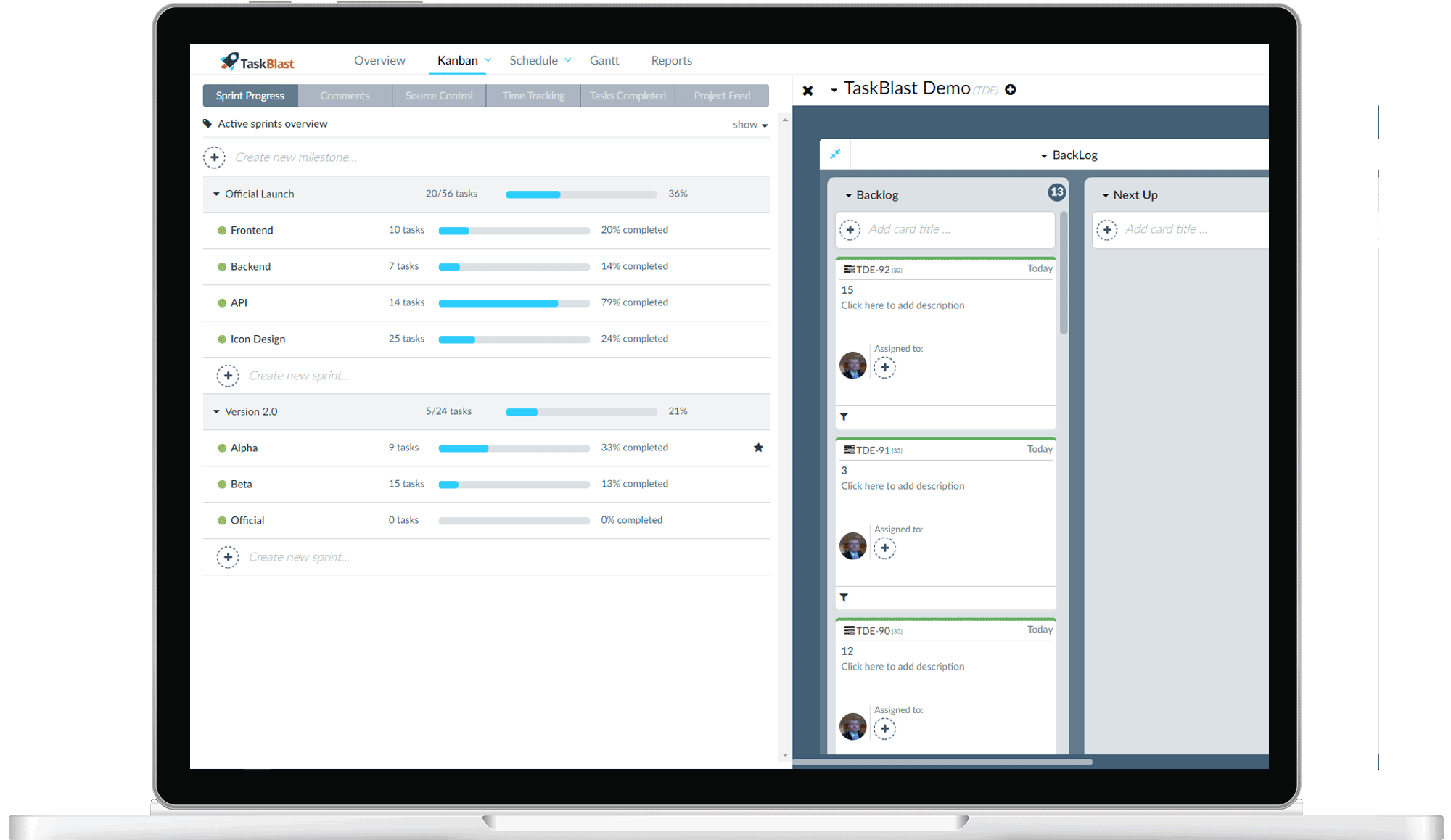 Resolve Comments
Cards can become cluttered with a lot of irrelevant comments which can make it difficult for people to understand the current status. Now TaskBlast offers the option to resolve comments so only the relevant comments are left.
Unlimited Clients For Free
On our 6 and 12 month contracts you can have unlimited clients for free
Release Management
All the features needed for a successful release.
User Friendly Editor
State of the art editor, paste images inline and much more..
My Tasks View
Plan your day and view all your tasks in the My Tasks View.
Email to any project
Every project has a unique email which converts and email to a card.
Limit work in progress
Set a max amount of tasks per lane.
Automatic Prioritization
Our algorithm automatically pushes the most important issues to the top.
Multiple Assignees
Quickly assign one or more people to a task.
Free Version
TaskBlast is free for up to 2 users
Slack Integration
Sync your project chat to any slack chat.
Github Integration
Send your commits to a TaskBlast project. Smart Commits.
Bitbucket Integration
Send your commits to a TaskBlast project. Smart Commits.
Happy Customers
---
Join happy customers all over the world using TaskBlast to help manage their projects.
I love the visibility the high level overview provides. I was able to get my team using it the same day we set it up without any training. TaskBlast has significantly improved our productivity.
Jim Varnon
CEO - Max Value Software
I spent more time figuring out how to use Jira than managing my projects, most features I never used. TaskBlast has just what I need without the complexity - Customer for life.
Florin Oprina
TaskBlast User
Task Blast makes it easy to communicate with my coworker who won't be up for 8 hours. It keeps important information and tasks from being buried in group chats/emails!
Chris Birkey
TaskBlast User
Resource Management
Managing staff resources can be a challenge. With TaskBlast's resource management you can easily see how many hours or tasks per day each employee has on their plate allowing you to spread the workload evenly.
Also, When assigning a task to a user, you can see data on the hours available for each user.
Roles and Permissions
With TaskBlast you have control over what users and clients have access to. Hourly rates, hours clocked, private internal comments and various other permission options give you all the control you need to manage your team and client privacy.
Pricing plans
Choose your pricing plan,
No hidden fees!
We have a Free and Single plan which you can choose to pay Monthly, Bi-Annually or Annually. You can always cancel your subscription anytime from your account. TaskBlast is always free for up to 2 users!!
One Read-Only account per paid user is included on the Annual plan only. Example: if you have 10 paid users, you also get up to 10 free Read-Only accounts. Read-Only accounts are for clients or management who use the software in a monitoring capacity. They cannot create projects or use time tracking.
TaskBlast Pro
No Billing - No Expiring

$0.00
No charges

Free Access
All Features including
Time Tracking & Gantt
1 or 2 Users + No Read-Only