Kanban Filters
1 – Filter By Sprint
2 – Filter By User
3 – Filter By Date
4 – Other Filters
5 – Clear All Filters

Filter By Sprint
Filter the Kanban View by cards tagged with a specific sprint. Note that when a sprint filter is applied, any new tasks created will be automatically tagged to that sprint.
Filter By User
Filter for tasks which are assigned to this user.
Filter By Date
Filter tasks by created date, updated date or due date.
Other Filters
Filter for various scenarios such as priority, overdue, unassigned etc. This is often a useful way to filter for potential future bottlenecks. You can also filter by tags you added in this drop-down.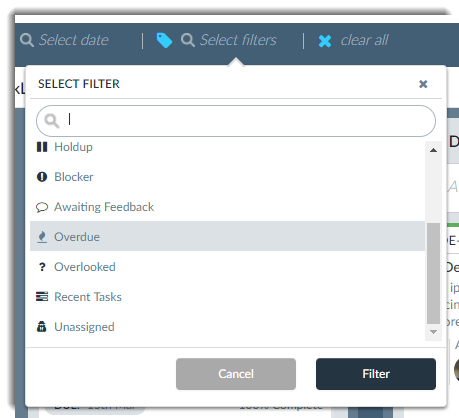 Clear All Filters
Clears all applied filters.