Time Tracking Tab
The Time Tracking Tab (located on the Sidebar of the Project Taskboard) only shows tasks assigned to you. It does not show time recorded by other users.
1 – User Permission Options
2 – Filters
3 – Time Tracking Entries
4 – Time Clocked
5 – Hours Left
6 – Percent Complete
7 – Billing Type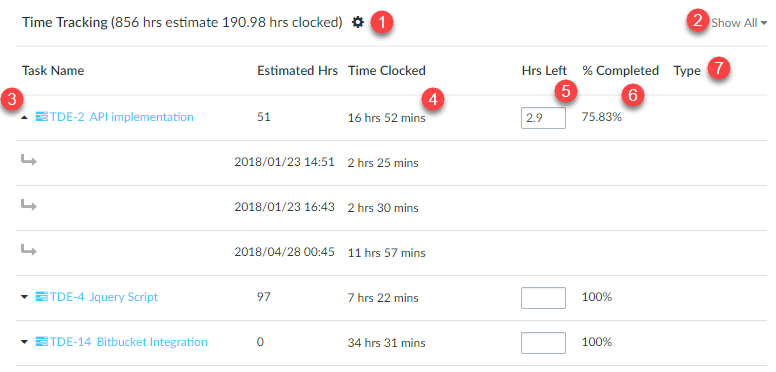 User Permission Options
When you add a new user to the company you can specify if they are a client. A client is an external client that you are completing work for or a stakeholder. You have the option of hiding the time tracking reports, costs or both from clients.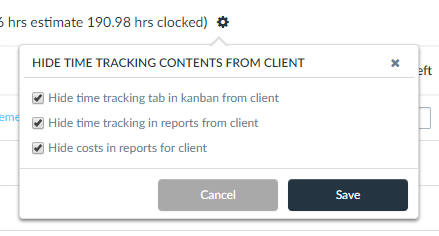 Filters
You can filter the time tracking entries by date or by billing type. There are two billing types, billable and non-billable. Non billable time will not show any cost.
Time Tracking Entries
This displays all the tasks assigned to you. Each task can be expanded. If there was more than one-time entry clocked it will show those when expanded.
You can also clock time, edit time and delete time from here although we recommend using the Global Time Tracking Tool for clocking time.
Clocking Time
This animation shows the various options to start clocking time, pausing time, submitting time and adding comments and also deleting time.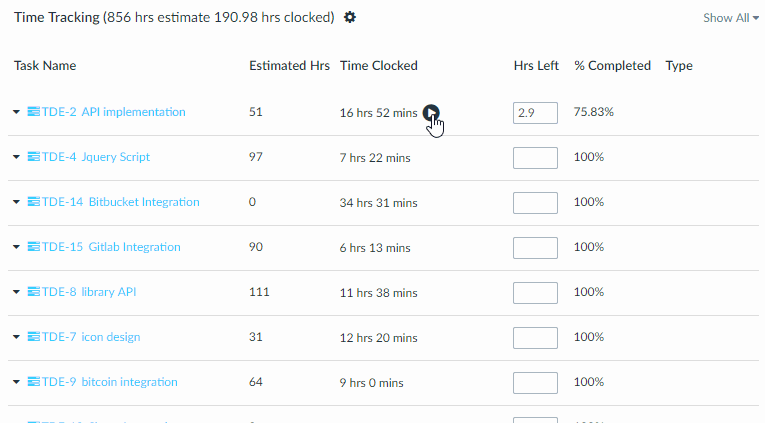 The total hours clocked for the logged in user are shown in the top left of the time tracking tab.